I'm exhausted. I had the privilege to meet some of my Blogstonian friends. The heavy hitters too; American Family, JenEx, Chicagomama, Shelly and Shelba all got together for a big shindig. Great time was had by all. It was nice to finally meet friends with whom I've gotten to know over the past year or so. Everyone is just as lovely as they depict themselves on their blog. ahem*.
So what do a bunch of bloggers find themselves doing once they get together face to face?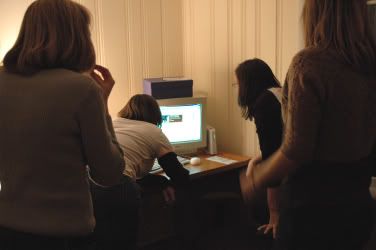 Addicted I tell you. Addicted.
Thanks everyone. I am honored that you would make a trip just so we could meet.
*That ahem was for AmFam. Girl, you don't give yourself enough credit. You are loved and a kickin hostess.