My mom handed me my grandmother's sewing box.
My grandmother was a dress designer for Bonwit Teller. She made custom wedding gowns. She died last February just shy of her 94th birthday. When I went through her closet I found she had sewn Bonwit labels into her clothing. I also found a stash of Bonwit labels. The sneak. She worked for them for 11 years then got pregnant with my father. The entire time she worked there she never mentioned she was married. She was afraid that they would fire her. How do you not tell any of your coworkers about the other half of your life? 11 years?
These took up most of the box.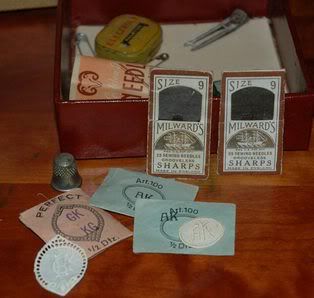 I found these great little labels she had made up of her initials using both her formal name and her nickname. AK and GK. I wonder if she put these in the gowns she made?
I also found a wooden darning egg, a small turning tool, various wooden spindle of thread, needles, buttons, and this great portable sewing case (the brown cylinder).
This is the inside. I may just have to make one like this.
Going through this stuff tonight was tough. It cemented how much I really am like her. Do I like sewing because she did? Would I if she hadn't have taught me?