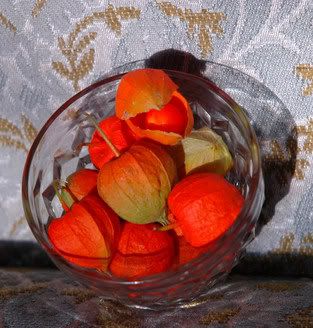 Aren't these beautiful? These are Chinese lanterns from my garden. My friend Trix send me the seeds a couple years ago when we were both waiting to meet our daughters. The first year only about 3 small plants grew but this year there was a good 30 or more. The lanterns are first green then slowly turn this beautiful orange-red. Sadly, some insect has eaten holes throughout the leaves and now they look pretty pathetic but the lanterns are untouched. Inside each lantern is a shiny orange ball. Tootie has discovered this and wants to pop them all to get the ball out.
Thanks Trix. I'm a little embarrassed, this is the second post I've referenced Trix. She might think I've got a little girl crush going. Which I probably do.
updated
click
here
to see what the plant looks like.