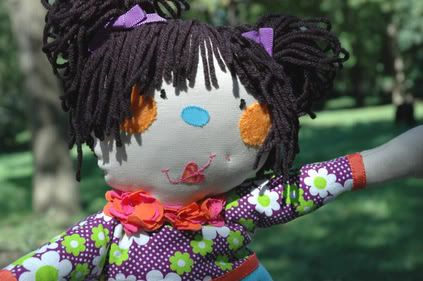 Now she has hair! It's amazing what hair does to the personality of the doll. I was kind of lukewarm about her until I started doing her hair. The hair defines her personality. Once I got that on I found myself singing "LYDIA!" from the movie
The Fisher King
. She doesn't look at all like the character named Lydia in the movie.
Michael Jeter
is in that movie and his character sings to Lydia. Just the way he sings it reminds me of this doll. I suppose it's one of those I guess you had to be there stories. If you haven't seen the movie I highly recommend it. Anyhoo, back to Lydia the doll...Her hair I put up into two short ponytails and left some hair strangling about. This is how Tootie wore her hair for a long time.
Lydia's dress is a combination of material I found at a garage sale, the flowered pattern, and an old table cloth. The flowers are from several linen shirts which were salvaged from a thrift store.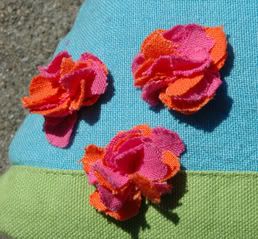 I had to restrain myself from making too many of these little flowers. I was tempted to put them all over her. Less is more. Less is more.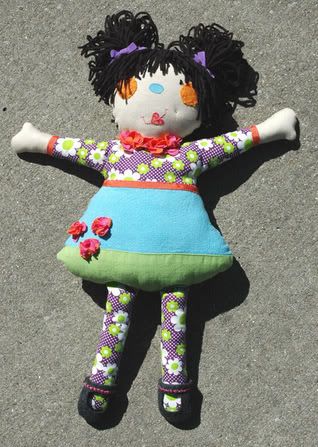 Lydia's shoes are simple in contrast to her overly busy dress. My husband, H, mister simple, complimented the shoes. He also liked her hair stating "it's silly".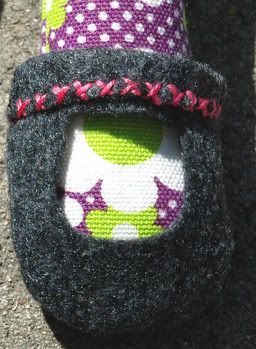 Once I put the finishing touches on her Tootie whisked her away for a tour of the neighborhood.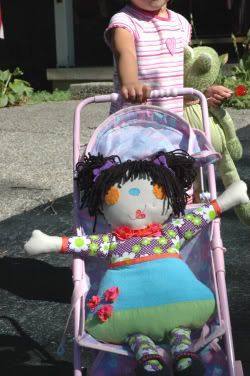 Note that her beloved Frog is in first position under her arm. She also had to bring her hippo flashlight cause ya'know you may need to flash someone with a laughing light.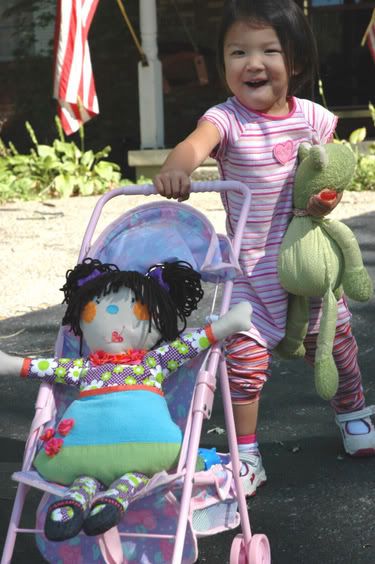 **************
See my
friend's
daughter
loving on her new doll. I'm honored.