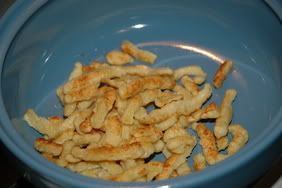 I made Spaetzle tonight. My grandmother made it, my mother makes it and now I make it. Each of us do it a little differently. My grandmother used to cut her dough by hand so her Spaetzles were thick and meaty. Mom's are thin and light due to using a Spaetzle maker which looks like a glorified potato ricer. I have a potato ricer. Mine are a happy medium. Here's the rough recipe:
Bring a big pot of water to boil.
Take a 1 cup measuring cup and fill it to the rim with eggs. About 4-5 eggs. If you are close to the top and feel that one more egg would make it over flow then top it off with water. Beat eggs in a separate bowl.
Measure 2 cups of flour into a bowl and add eggs to it. This will make a very thick sticky dough. My mom uses 1.5 cups flour but her machine has smaller holes for the dough to flow through.
Put dough in potato ricer. If you don't have a ricer you can use a colander and press the dough through. Boil noodles for about 3 minutes. The noodles will float to the top. Remove into bowl with butter. Repeat until all of your dough is gone.
You can serve them like this. My family likes them fried in butter. Some people add onion which I haven't tried but it does sound good. I've had them with nutmeg added to the mix but that seems to only work well if you're eating it with Sauerbraten.
Spaetzles are served as a side dish like a potato or rice. Tonight I served them with pork chops, sauerkraut, applesauce and beets.